The Glasgow Ranger v Hibs match at Hampden Park brought out the best in the great game of Football. The spectacle was viewed by impressed law abiding people far and wide.
Our brave and intrepid reporter Dick Leslie, who has been nominated for several local awards to do with writing things which aren't true, managed to find two of these so called fans to get to the bottom of what went wrong.
Davie-Boy Robertson a lifelong Hibs supporter with 3 neck tattoos and Micky scarface Maclean who claims to have been with Rangers from before they were made bankrupt for the first time.
Davie-Boy stated, 'The Rangers fans were asking for trouble. Who do they think they are coming along with their blue shirts, that's pure provocation ye ken'.
Micky scarface replied, 'No man, you don't understand, it was those Hibs fans. They ran onto the pitch'.
Before Micky could continue Davie-Boy interrupted, 'No, you ran on the pitch first'.
Micky came back with the only Glasgow-esqe insult he could, throwing the ultimate challenge down to his rival – 'Do you want some ya Fanny'.
The interview then descended into a Junior School type argument over who started it, leading to punches and kicks being thrown.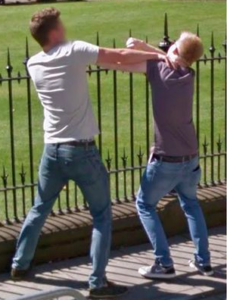 Once completely worn out, the true and loyal football supporters made up and shared a bottle of Buckie.
After a discussion they decided that the only way forward was to blame the Police for their actions.
'Aye it was the fault of the Polis so it was', said Micky Scarface, Davie-Boy nodded furiously in agreement like some sort of preforming circus monkey.
When asked how on earth their violent actions could be the fault of the Police who were on standby outside the ground, with Football Stewards Policing the inside of the ground, Davie-Boy retorted with what is probably the most intelligent thing he has ever said,
'It doesn't matter, all the Newspapers will blame the Police anyway so it's all good big man'.
The Scottish Football Association in partnership with the Scottish Government have today announced the first of several public enquiries into what went wrong at Hampden. Our source within the sacred walls of Holyrood has assured us that, These enquiries will continue until the fans are exonerated of any wrongdoing and all blame lies entirely with Police Scotland – who were outside the ground.